Reservations
Would like to book a table ? Make it easy for us, just make it in advance!!
About Apostolis Restaurants
APOSTOLIS Tavern, is well-known in the whole island because they provide fresh fish, all cached in the Cretan sea, delicious sea food, tasty picks plus a great variety of special dishes, all cooked with local and pure materials.
The best-qualified restaurant staff is always ready to give you the quickest service and the most lovely smile, in order to make you feel comfortable, happy and…. very hungry!
LOBSTER SPAGGETTI
One of our favorite ways to showcase fresh lobster is in this simple Venetian dish, where it's tossed with garlic, fresh ripe tomatoes, and white wine.
KAKAVIA
The Greek fish soup traditionally made from the smallest fish caught by fishermen, along with olive oil, onions, and saffron. 
STUFFED CALAMARI
Fresh Calamari is filled with rice and served with a thick red sauce, creates a tasty, satisfying fish dish.
SHRIMPS
 Find hundreds of tasty ways to cook shrimp, including pasta and shrimp, grilled shrimp
Kalitsounia
Kalitsounia are small cheese or herb pies. They resemble a common cheese or stuffed pie with the principal difference of its filling and serving variations.
Achinos
Achinosalata consists of the inside part of sea urchins served with oil and lemon. It is a must considered a summer delicacy
Stuffed Eggplants
Extra juicy and absolutely delicious! This aubergine based traditional Greek recipe will certainly amaze you!
Stifado
A Traditional Greek dish of meat stewed with onions and sometimes tomatoes
Pastitsio
The amazed baked pasta dish with ground beef and béchamel sauce.
Moussaka

The very best traditional Greek Moussaka recipe. Imagine layers of juicy minced beef, sweet eggplants, and creamy béchamel sauce baked to perfection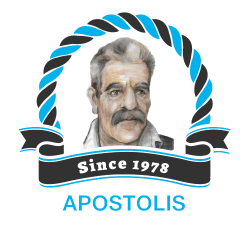 We are waiting for you at our fancy restaurant
10, Akti Enoseos – Porto Veneziano – 73100 Chania Crete
Contact us on Tel. +30 2821043470, 2821054879
or at apostolisrestaurant@hotmail.com of any queries.
Book a table on line